The Diet Solution
The Diet Solution: Start Eating and Start Living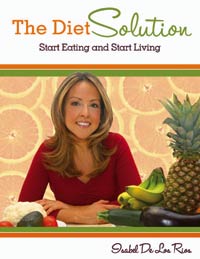 by Isabel De Los Rios
The Diet Solution manual and audio CD is the nutritional program that author, Isabel De Los Rios, uses to teach her clients. It is by no means a temporary "diet." It is a detailed manual with a step by step audio CD that gives readers all the answers to change their way of eating for life. Not only will followers of the plan see the pounds drop off, they can expect to see their energy and health reach an all-time high. Lifestyle changes, not temporary dieting, are the key to losing unwanted weight and taking control of health concerns such as diabetes, high blood pressure, high cholesterol and heart disease!
About Isabel De Los Rios
Author Isabel De Los Rios is a nutrition, exercise, and lifestyle coach who uses the Diet Solution Program to help clients reach their ideal weight and improve such conditions as heart disease, type 2 diabetes, high cholesterol, and high blood pressure.